Tweet

When I was a little girl, I stumbled upon my mom's beauty drawer (ok, I was snooping) and found a little box filled with, as I recall, boomerang shaped pieces of paper. I was old enough to read and learned that these little patches, when applied to the corners of your eyes or your lips, helped ease the signs of aging. I was probably about six and I plastered those things all over my face. I don't know why I did that, but the lure of beauty products, even back then, proved too much to resist. The same is true for me today. I learned that those little shaped patches were called Frownies. I never saw my mom actually use them, but she had, and still has, beautiful skin and that little box was an ever-present feature in that bathroom drawer.
Frownies has been in business for 125 years and is still going strong. There must be something to those little patches. And, yes, if you're wondering, Frownies still sells them but they've also expanded their product line to include creams, serums, body products, washes, men's products and masks. The six year old was awakened in me when I received an email from a Frownies representative asking if I'd like to review their neck mask for EverBeautiful. I cannot resist a mask. No way. My beauty closet is replete with eye masks (Murad makes a lovely one), hair masks and face masks. I try to do a face mask at least once a week. Besides  being good for my skin, it forces me to relax for 20 minutes to half an hour. Another benefit!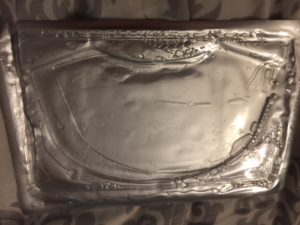 Frownies sent me their Neck Treatment Gel Mask and I couldn't wait to use it. The very first thing I noticed about it is that it smells heavenly, kinda like roses. Some of the ingredients are:  Glycerin, Aloe Barbadenisis Leaf, Collagen, Lavandula Angustifolia (Lavender) Oil, Trehalose and Hyaluronic Acid. The second thing I noticed, when I cut open the bag to remove the mask is that it's a slippery bugger. I put my nail through it several times in an effort to keep it from slipping through my fingers. No big deal. It didn't impair it in any way. The directions say to apply it to your clean neck and to "recline in a comfortable place" with it on for for 20 to 30 minutes. Ah, forced relaxation. The mask felt cool on my neck and very soft and moist. It was actually a pleasure to use. And, bonus! – it's reusable. The directions say to replace it in its bag, spray it with Frownies Rose Water Hydrator Spray, store it in the refrigerator and it will be good for three to five uses. I didn't have the Rose Water Spray – might buy it after I finish writing this. I am a sucker for rose-scented everything – but sprayed it with a different facial spray I did have.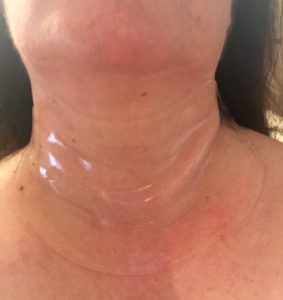 Frownies says that with regular use, your neck will be softer, smoother and lifted. I definitely noticed that my neck was softer and smoother will only one use but I didn't see any visible difference yet – and I didn't expect to, certainly not after one time.
My Frownies Neck Treatment Gel Mask is safely wrapped up and hanging out on a refrigerator shelf and I look forward to using it again. One more thing – the mask is soaked in those delicious ingredients mentioned above. In the process of applying it, some got on my hands and my hands are definitely smoother. Note to Frownies – How about making a lovely hand cream out of these same ingredients? Oh, and before I forget, Frownies makes a similar mask for the face.
Want to learn more about Frownies? Visit their website here where you can also shop.
YOU MAY ALSO LIKE:
The Prettiest Dresses of the Season

Tweet