Tweet

Kendall Jenner and Mary J. Blige attended the 2017 Met Gala clad in two creations from the La Perla Haute Couture Collection designed by Creative Director Julia Haart. Jenner donned an all-over crystal draped gown in dégradé shades, complete with a barely-there painted macramé bodysuit. Blige debuted La Perla's latest innovation: latex lace. The corseted column gown in stretch tulle, latex lace, and silk cady perfectly links La Perla's lingerie heritage with its future in haute couture.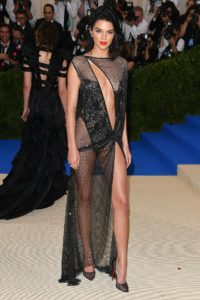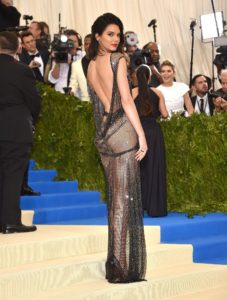 ABOUT KENDALL JENNER'S GOWN
Created from 85,000 hand painted and placed crystals, Jenner's La Perla gown is a culmination of more than 160 hours of work, spanning 5 cities and 26 craftsmen. Each hand painted crystal is placed en dégradé, creating a flow of color from Diamond into Jet Hematite and finishing off in Jet Black.
"I was inspired by Rei Kawakubo's concept of 'un-fabric' and her ability to create movement out of seemingly immobile materials. So, I created my own 'un-fabric' by affixing stones to a single thread, creating a beautiful and liquid suspension that mirrored the qualities of a fine silk." – Julia Haart, La Perla Creative Director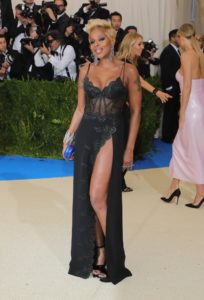 ABOUT MARY J BLIGE'S GOWN:
Inspired by Rei Kawakubo's concept of 'un-fabric,' Creative Director Julia Haart created hand-sculpted latex lace as the principal feature for Blige's provocative column gown. Starting with a corset that features a built-in La Perla bra, the black stretch tulle is adorned with scalloped latex lace and hand-placed boning detail.
Rita Ora's Beauty Look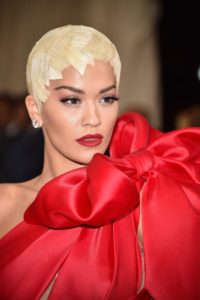 Celebrity Makeup Artist Kathy Jeung worked with Rita Ora for last night's Met Gala. Rimmel London's brand new Shake It Fresh mascara made its red carpet debut and was used to create Rita's look.
How to Get the Look:
Skin
Kathy applied Rimmel London Stay Matte Primer all over Rita's cleansed face to create a smooth mattifying canvas for makeup. She then applied Rimmel London Match Perfection 2 'n 1 Concealer in shade Light with her ring finger in a tapping motion underneath Rita's eyes, erasing dark circles. Kathy applied Rimmel London Stay Matte Liquid Mousse Foundation in Sand with a flat foundation brush in broad strokes over Rita's face, and blended with a damp sponge, giving Rita a sheer, natural looking matte finish.
Cheeks
Kathy used Rimmel London Kate Moss Sculpting & Highlighting Kit in Golden Sands to highlight the tops of Rita's cheekbones, above her jawline and down length of her nose. She contoured the hollows under her cheekbones, just under her jawbone and under her chin using a narrow wedge brush and applied the blush using a rounded brush on the apples of her cheeks and extended towards temples.
Kathy added a natural glow and a healthy dose of color by applying Rimmel London's Natural Bronzer in Sun Bronze, with a large fluffy brush, by dusting lightly along hairline, on temples, on cheeks and under chin. She also blended into the face to soften the contour.
Eyes
Kathy applied the beige shade of the Rimmel London Magnif'Eyes Shadow Contouring Palette in Keep Calm & Wear Gold all over the eyelid to browbone as a base color and browbone highlighter. She used the dark beige matte shade in the eye socket hollow to enhance the crease. She lined Rita's eyes using Rimmel ScandalEyes Thick & Thin Eyeliner by applying a thin line along the lashes to subtlety blend in the lash line. Lastly, she enhanced Rita's eye look by using Rimmel London's brand new volumizing, clump-free Shake It Fresh Mascara to complete the look.
Brows
Kathy gave Rita a structured brow, using Rimmel London Brow This Way Brow Sculpting Kit in Dark Brown. She brushed the powder on to fill in, and extend the shape and give structure to Rita's eyebrows. She then used Brow This Way Brow Styling Gel in Clear to keep stray hairs in place.
Lips
Kathy lined Rita's lips using Rimmel London's Lasting Finish Lip Liner in  Red Dynamite to give added shape and staying power. She finished off the lips by applying Rimmel London's Show Off Lip Velvet in Burning Lava and Rimmel London Lasting Finish by Kate Moss Matte Lipstick in Kiss of Life. She layered Rimmel London #Insta Fix & Matte Translucent Powder in between the layers to keep everything in place.
Where to Find Them:
Rimmel London products are available at chain drug stores and mass retailers nationwide. Visit
http://www.RimmelLondon.com
for store locations and to try the newest products with Rimmel London's exclusive Get The Look App available on iTunes and Google Play. Rimmel London's new Shake It Fresh is available now at
Target.com
.
Clare Danes's Hair Look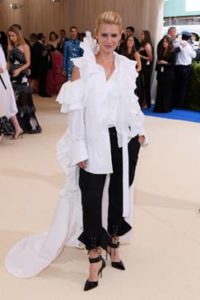 How to Get the Look from Celebrity Hair Stylist Peter Butler
Claire Danes's Met hair look was inspired by an architecturally couture look from Monse. Her hair complimented her outfit by being pulled up into a loose knot with some strands framing her face.
Her hair was prepared the night before with a Schwarzkopf GLISS Ultimate Repair Anti-Damage Mask to be in the best shape possible for the big day.
Then, Butler set the hair after a rough blow dry, using his hands and some göt2b Volumaniac Hairspray for texture and volume. Then he used a 1 3/4 inch curling iron to create added volume away from Danes's face. He combed out the set of curls with his hands and used an elastic bungee to tie her hair back into a knot. With a little göt2b defiant shine pomade, He smoothed over her fly aways which added separation and attitude…the perfect touch. To finish the look, he used the göt2b Glam Force High Hold Hairspray
YOU MAY ALSO LIKE:
How Healthy Is Your Scalp? Tips to Keep it in Tip Top Shape …
Eat These Foods to Protect Your Skin
Embarrassing Fashion Moments? We've All Had Them. Celebrities Share Theirs in This Beautiful Book …

Tweet