Tweet

Author Tom Coleman and Photographer Jerome Jakubiec capture fashion mistakes in their book, I Actually Wore This, Clothes We Can't Believe We Bought.
Clothes make the man said Shakespeare through his comic character, Polonius, a blowhard who speaks in cliches that are filled with sage advice, in the tragic play, Hamlet. But I would bet you that Polonius wasn't talking about Crayola crayon dresses, seven-inch high platform heels or crocodile-skin biker jackets, unlike the people who populate the beautifully styled and photographed pages of Tom Coleman's book, I Actually Wore This, Clothes We Can't Believe We Bought.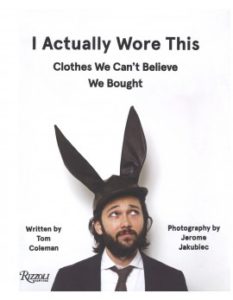 The book, 192 glorious pages, includes photos of the rich and famous as well as mere mortals who discuss their fashion foibles, how much each cost, where it was purchased and how many times it was worn. The stories they tell about the outfits in question, which they kept by the way, are as interesting as the photos, which show a glimpse into the lives of these subjects. At times, I laughed out loud as I read. Some of the stories about the clothes they can't believe they bought are really funny. New York City Art Director, Lee Potter says of her orange cocktail dress, "Orange works great for Cheetos, traffic cones, and Mario Batali's Crocs. But I've learned that it's not the easiest color to pull off on a dress unless you're Sofia Vergara or a Real Housewife of Cartagena." Creative Director DeVinn Bruce says of his Issey Miyake trench coat that he purchased at Barney's New York, ca. 1970s for around $800.00, "I'm not usually an alarmist, but I think this coat tried to kill me," and then goes on to tell, hilariously, exactly how. Art director/designer Drew Villani says, "Sometimes there's one little thing that can ruin a piece of clothing. In the case of this shirt, there were two: my nipples," of his surprisingly sheer Lanvin shirt, purchased on sale for $350.00 at Lanvin, NYC in 2012.
Tom Coleman is an Emmy-nominated writer and filmmaker whose work has appeared on MTV and in Esquire Magazine, among others. Jerome Jakubiec is a fashion, portrait and celebrity photographer whose work has been published in magazines worldwide. Together, they've created a keepsake book that will bring smiles and laughter to the most devoted of fashionistas as well as those who haven't the faintest interest in the world of fashion. After all, we all wear clothes and we've all had those moments when we donned an article of clothing that we thought made us look fabulous only to learn, often after the fact, that we looked sort of ridiculous.
I Actually Wore This, Clothes We Can't Believe We Bought doesn't make style or fashion statements. The author doesn't judge and each photograph is as beautiful as any in the most upscale fashion glossy. And, to read each wearer's story about the clothing he or she can't believe was bought, is an insight into not only the history of fashion trends, but into the wearers as well.
Some of the people profiled in the book include Saturday Night Live alum, Molly Shannon; Bill Blass Creative Director, Chris Benz; Bergdorf Goodman Fashion Director, Linda Fargo and Leandra Medine, writer/founder of Man Repeller, the blog that revolutionized fashion blogging, shone a spotlight on street style fashion and that has become a global media business.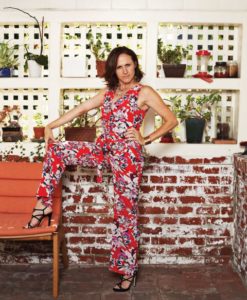 I Actually Wore This, Clothes We Can't Believe We Bought is available in hardcover for $35.00 in April from rizzoliusa.com. Make a note, put it on your calendar. Buy this book. It would make a wonderful gift  – but don't cheat yourself out of its pleasures. Buy one for yourself too.
Now, it's your turn to share. Tell me about one of your I Actually Wore This moments. Here's one of mine (there were many!) I wore this Andrea Jovine dress to the opening of a NYC nightclub in 1991. I can't remember what it cost, although I thought it was pricey at the time. I bought it in Loehmann's Back Room in Hewlett, New York in 1991 and I wore it exactly once because who really wants chandelier crystals defining and hanging from their breasts?. As for the hair? I wore that more than once but I can't, for all the money in the world, tell you why.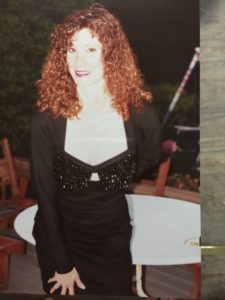 YOU MAY ALSO LIKE:
True Love: How to Use Science to Understand Love by Dr. Fred Nour: My Review
Brigitte Bardot: My Life in Fashion by Henry-Jean Savat: EverBeautiful Book Review