Tweet

I received a complimentary copy of The AstroTwins' 2018 Planetary Planner to review. My opinion,below, has not been influenced by this. It is honest and true with you, the reader, foremost in my mind.
"Nice to meet you. What's your sign?" Who remembers that? Yes, there was a time when asking someone their sign was a conversation opener, albeit one that shortly became a bad joke and the subject of late night comedians' monologues. But, before that happened, people would discuss the characteristics of their zodiac signs and read their daily horoscopes as seriously and religiously as they now follow our day to day politics or the activities of the Kardashians. It was definitely a thing.
Astrology has been around for centuries, dating to as early as the 2nd Millenial BCE, according to Wikipedia. Throughout its ages-old history, astrology was considered a scholarly study in many cultures and references to it can be found in the writings of Shakespeare, Dante and Chaucer.
Today, astrology has taken a hit from the religious and scientific communities, the latter of which considers it a pseudoscience. But, I don't know. I, like millions of people, love to read my  horoscope and, while I don't consult it every day, I am a sucker for emails from sites I follow that proclaim, "New Year: What Do the Stars Have in Store For You?" That sort of headline gets my attention every time.
Just a few months ago, I picked up my car from the garage in NYC where I park it regularly and the driver's side window was open. I tried to close it, but couldn't. On the road, I was finally able to close the window and saw the reason for why it was stuck. It was broken, with a huge crack in the glass that didn't break the window but caused it to misalign.  On the ride home, I had a slow leak in a tire and later discovered that it was from a nail. When I complained to a friend about these things, he said, "Mercury is in retrograde." He explained that Mercury is a mischief maker, unlike Mars. When Mars is in retrograde, look out. It can have serious consequences, and not just niggling ones. That was the first time I'd heard about anything astrological in retrograde, but not the last. After that conversation with my friend, it seemed that everyone, from TV hosts to other friends to magazine articles referenced Mercury in retrograde. Several months later, it was Mars's turn and, in my life, at least, things got nasty and I rediscovered my prior respect for astrology.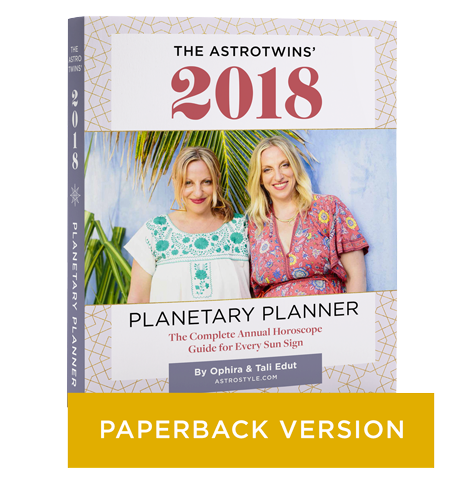 Enter the AstroTwins. Identical twins Tali and Ophira Edut are professional astrologers who are followed by millions of people. They have read charts for celebrities including Sting and Beyonce and are the official astrologers for Elle Magazine and MindBodyGreen.com.  They've been featured in The New York Times "Sunday Styles Section"  and People Magazine and have collaborated with major brands including Vogue, Revlon, Nordstrom and H&M. Street cred? Hell, yeah! The AstroTwins have also authored several books including their latest, 2018 Planetary Planner & Horoscope, and I just received my copy! Oh my gosh! This book is a comprehensive guide to what you can expect, depending on your sign, in regards to love, money, health, happiness and more in the new year. This year's guide includes day planner calendar pages and listings for lunar cycles, key planetary transits and, yes, retrogrades. I need this info. Forewarned is forearmed!
Of course, the first thing I intended to turn to was what was in store for me. I'm on the cusp of Scorpio and Sagittarius and have never been really certain as to which sign to follow, so I read both. But, before I could even turn to the pages of my sign, the book caught my attention with this subhead on page 5: "Jupiter in Scorpio and Sagittarius: Redefining Power." You're going to have to read The AstroTwins' 2018 Planetary Planner & Horoscope to learn what the stars have in store for our country, the world and you. Suffice it to say, it's fascinating.
You know what they say: it's written in the stars. And, it's all presented by The Astro Twins in their latest book, 2018 Planetary Planner & Horoscope. Get it on the AstroTwins' website. It's a fun and interesting guide for believers and non.
YOU MAY ALSO LIKE:
Selling Short by Harriet Posnak Lesser
I'm Not Making New Year Resolutions. Doing This Instead …

Tweet