Tweet

Time to vent …
I keep seeing an ad on social media that's aimed at women of a certain age. The ad is for a book, a website – I really don't know for what because it infuriates me. It purports to help older women look younger with makeup. It irks me because its style is dictatorial: "never wear shimmer eyeshadows," "stay away from concealer," "don't wear too much makeup. It ages you."
As a woman of a certain age and someone who's written for the fashion and beauty markets for years, I take umbrage at anyone who lumps me into a category based on my age and tells me what I should and should not put on my face, my body, my hair to make me look younger. I wear what I like and what makes me feel beautiful – and that's what I tell my readers to do. The only rule I'll dictate? Ignore makeup rules (but keep the shimmer eyeshadow, the red lipstick, the under eye concealer, if you like them).
Let's debunk some of these so-called rules, shall we?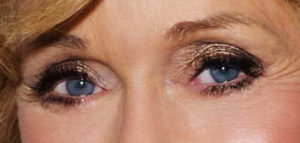 Never wear shimmer eyeshadow. The reason for this rule is that eyeshadows with a bit of shimmer are said to accentuate the fine lines that appear on our eyelids as we age. Ugh! I love shimmer. It catches the light, brings attention to the face and, c'mon, it's pretty! If you love a little shimmer, wear it. If you're still wary about how it looks on your eyelids, apply a light colored shimmery powder to the brow bone instead. That will brighten and open the eye area no matter what your age.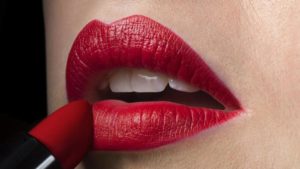 Red lipstick will make you look older. Ugh! Ok, story time. When I was 30, I was at an upscale, trendy boutique department store on Fifth Avenue in New York City. I was shopping the makeup counters where the newest products could be had. I was particularly interested in a dark red lipstick and asked the salesman to see it. "Oh no, that's not for you! It will age you. Try this one," he said, handing me a pastel pink. I WAS 30 – and looked 20! But, I never forgot that insulting conversation. I was so upset by his assertion, I left feeling terrible about myself. He was an expert after all, employed at one of the city's trendiest stores, by one of the beauty industry's trendiest cosmetics companies. Nevertheless, I left and headed to the next department store's makeup counter where I bought the very same dark red lipstick – and loved how it looked on me. Years later, I still wear red lipstick even though I've read that I should not, that it will age me. The trick with red lipstick – no matter your age – is to find the shade that looks best with your coloring. When I change my hair color, I change the shade of red lipstick that I wear. I admit that reds are tricky to wear. The reason that "they" say older women should eschew red lipstick is because it may feather into fine lines around the lips. Prevent this by lining your lips with a matching lipliner and filling in your lips with liner or a matching lip stain before applying lipstick. This tip will not only help prevent feathering, it will make your lipstick last longer – and if it does fade or wear off after eating, you'll still have even color on your lips. My Aunt Sarah wore red lipstick exclusively. She had black hair, fair skin, the darkest brown eyes and red lips. She was beautiful and if she'd heard that she shouldn't wear red lipstick because she was too old for it, she'd have worn it anyway.  Find a shade that you love and wear it with confidence.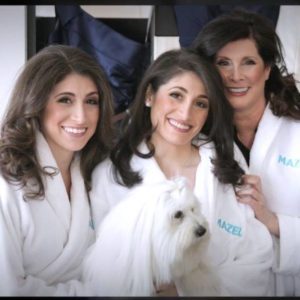 Older women should not wear foundation. I hate this one too. Not all of us need foundation, like foundation or want to bother with foundation on a daily basis. I wear it in the winter months to even my skin tone and smooth my skin. (In the summer, I wear only moisturizer with an SPF.)  The reason foundation is considered a Do Not Wear for older women is due to those fine lines and wrinkles again. Newsflash – foundation, when properly applied, can help conceal fine lines and wrinkles. I prep my clean skin – regardless of whether or not I'm going to apply foundation – by using a toner followed by a firming serum. I then apply a moisturizer and allow it to dry. After that I apply my foundation by pressing it into my skin with a makeup brush or sponge. This method gives you the best coverage and helps prevent foundation from looking dry and mask-like – which can happen at any age. The trick to wearing foundation is to find one that most closely matches your skin tone – test it on your jawline or cheek, not on your hand. Want to know why? Hold your hand up to your face. It's often a different color and you'll be wearing foundation on your face, not on your hands. Don't have a brush or makeup sponge to apply your foundation? No problem. Use your fingers to press it gently into your skin. Start with the center of your face – your nose, forehead and chin – and blend outward. Prep your skin with an oil specially formulated to be light yet moisturizing and to impart anti-aging benefits. If you like, you can add a few drops of oil to your foundation before applying it. This will impart a dewier look.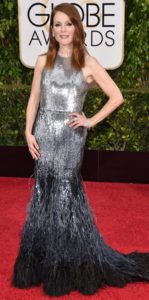 Don't wear eyeliner on your lower lid. What? Why not? I can't tell you why this is one of those "rules" of makeup for older women. Perhaps it's because it closes the eye? I don't really know but, again, know what works for you. If you like the way your makeup looks with a lined lower lid, apply liner to your lower lid. I often wear two different colors of eyeliner – black or dark brown on the upper lid and navy on the lower lid. It makes my eyes look bigger. I don't like the way liner on my water line looks. (That's the inside part of the lid.) It never stays on me anyway and I think it closes up my deep set eyes. But it might work for you.
Experiment. Play with makeup, if you like wearing it. Visit a cosmetics counter and have one of the people who work it show you their techniques for applying makeup. This service is free but they will, of course, try to sell you the products they rep. You are under no obligation to buy. And, if you don't like the way you look, go to a different makeup counter the next time.
When I was a teenager, I used to have "beauty days" with my friends. We'd make face masks out of whipped egg whites and we'd experiment with makeup using models who appeared in the pages of our favorite magazines for ideas. It was fun – and I'd have beauty days with my daughters when they were growing up. I still love makeup only now I think of it more as a tool than a toy. If you love makeup, don't be dictated by rules. Use products you love, learn how to apply them and have fun with it.
Here are a few links that may interest you.
Ecco Bella recently introduced FlowerColor Makeup, cosmetics that gets its color from an infusion of flower wax. The extensive line includes lipsticks, lip glosses and pencils; eyeliner pencils, mascara, liquid foundation, eyeshadow and more. 
butterLondon, the official makeup of the TV show, Project Runway Junior, may have you falling in love with makeup again.
Jane Iredale Cosmetics – mineral makeup and products that are are beneficial to your skin.
Hard Candy – it was beloved in the 90s and is still a major player in the beauty game with new and beautiful introductions.
RoC Skincare – this fabulous drugstore brand is revered for being the first to discover the method for stabilizing Retinol, combining it with other antioxidants to make it possible for daily use.
YOU MAY ALSO LIKE:
The Best Makeup Brushes On the Market