Tweet

Women still have a long way to go to achieve equality, in the workplace, in their paychecks. But women are "more equal" in some parts of the U.S. than in others. How does your state stack up?
Here's some sobering news that came across my inbox last month timed for August 26th, Women's Equality Day, which I completely missed. Sadly, this news is still relevant. I'll let it speak for itself …
The U.S. currently ranks No. 45 out of 144 countries on the Global Gender Gap Index – having fallen 17 spots since the previous year according to the personal-finance website WalletHub that conducted an in-depth analysis of 2017's Best & Worst States for Women's Equality.
In order to determine where women receive the most equal treatment in American society, WalletHub's analysts compared the 50 states across 15 key metrics. The data set ranges from the gap between female and male executives to the disparity in unemployment rates for women and men.
Best States for Women's Equality
Worst States for Women's Equality
1
Hawaii
41
Arkansas
2
Nevada
42
Idaho
3
Illinois
43
Louisiana
4
Minnesota
44
Pennsylvania
5
Washington
45
Oklahoma
6
Maine
46
Georgia
7
North Dakota
47
South Carolina
8
Oregon
48
Texas
9
Wisconsin
49
Virginia
10
Vermont
50
Utah
Best vs. Worst
In every state, women earn less than men. Hawaii has the lowest gap, with women earning 12 percent less, whereas Wyoming has the highest, 31 percent.
Men have longer average workdays than women. Nevada has the lowest average work-hours gap, with men working 9.25 percent longer. North Dakota has the highest, with men working 19.55 percent longer.
In nearly every state, women represent the highest share of minimum-wage workers. Montana, Nevada, North Dakota, Rhode Island and Vermont have an equal ratio of females to males. Oklahoma has the highest minimum-wage workers gap at 60 percent.
Rhode Island has the highest unemployment-rate gap favoring women, with 2.4 percent more unemployed men. Georgia has the highest gap favoring men, with 1 percent more unemployed women. The unemployment rate is equal for men and women in Illinois and Idaho.
In every state legislature, male lawmakers outnumber their female counterparts. Nevada has the lowest gap, with 34.2 percent more males. Wyoming has the highest, with 87.5 percent more males.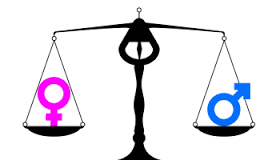 Pretty dismal, huh? So what are you going to do about it? One thing you can do is to call your representatives. Don't know them? Find them here.
Introduce yourself by name and zip code and then tell the person at the other end of the phone (usually an aide) what issues are dear to you and what action you want your representative to take, i.e., to vote yes or no on an upcoming bill, or to speak out publicly for or against something that's being debated in Congress. As I understand it, telephone calls are effective in that they must be reported and tallied. Use your voice, not just on Election Day but every day. Don't be afraid to make a pest of yourself, but, of course, be pleasant. Don't allow anger to get the better of you. Also, don't just call to voice your dissatisfaction about something you don't like. When your representatives or senators vote in a way that works for you, or appear on TV or social media in a way that supports your causes, call to commend them. Everyone likes to hear about a job well done.
It's a small thing, calling your representatives, but it's important. Why wait until Election Day to let your voice be heard?
To view the full report and your state's rank, please visit:
https://wallethub.com/edu/best-and-worst-states-for-women-equality/5835/
YOU MAY ALSO LIKE:
Equal Pay Day – But There's Nothing Equal About It
Addicted to Stress? Many Women Are …