Tweet

The western beauty world has turned its attention to the east. The buzz now, and for the past few years, is all about Korean beauty products.  Remember when BB creams inundated the market to become the rage? They're now a staple and although they weren't initially developed in Korea, we can thank K-beauty companies for bringing them to the attention of the western market.
The next greatest thing? How about transdermal vitamin C? The benefits of this powerful antioxidant are well known to the beauty and medical communities. Antioxidants neutralize the damaging effects of free radicals from sun, stress and pollution to reduce the visible signs of aging. The problem with vitamin C is that it loses its potency once it's exposed to air, light, heat or water and, due to its water solubility, it wasn't able to permeate the layers of the skin where it does the most good.
Until Vitabrid C12 Face Brightening Powder was introduced to the market.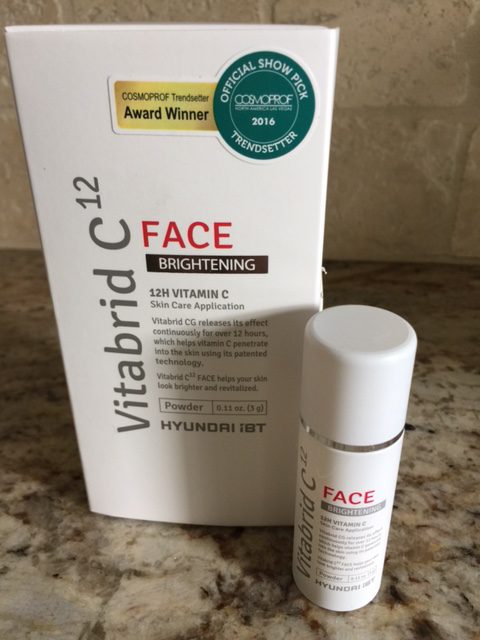 The power ingredient in Vitabrid C12 Face Brightening Powder is a stable version of vitamin C that, when applied to the skin, penetrates it to deliver benefits  for up to 12 hours. The  patented technology that makes this possible was developed by Dr. Jinho Choy, a chemist at Seoul, Korea's Ewha Womans University, and it is receiving awards, accolades and rave reviews from professional organizations and users alike.
I was sent a complimentary sample of Vitabrid C12 to test and review for the readers of EverBeautiful.com. Full disclosure: Prior to receiving Vitabrid C12, I had consulted with an aesthetician about laser treatments to brighten my skin and to reduce redness and discoloration that comes with aging. I have yet to book my first appointment – multiple treatments are required to achieve optimal results at about $150 a pop in my geographical area, with follow up maintenance treatments when necessary. Then I learned about Vitabrid C12. Could it brighten my skin to make it look younger? (As a girl, my skin was very fair with a smattering of freckles. As I've aged, my skin has become duller and, ugh, redder. The redness even shows through my foundation. I'd like it gone, please.)
Vitabrid C12 is a powder that comes in a palm-sized plastic bottle that has a little window to let you know how much product is left.  And, all you do to use is to put some water or skin care product in the palm of your hand, give the bottle a quick shake and tap out a little Vitabrid C12, mix them together and apply the mixture to your face. (Yes, you read that correctly. You can use Vitabrid C12 with your favorite skincare product or on its own with water.) I've used it twice a day for almost two weeks, both with and without product, and I noticed a difference after the first week. My skin looked brighter and some of the redness was gone. I know why Vitabrid C12 is getting raves.
The other day I was at the eye doctor. You know how close they get to your face. My eye doctor, a woman of about 45, zoomed in to get a closer look at my eyes and complimented me on my skin. "Your skin is so smooth and even, she said, before asking me what I used to keep it like that. I told her about Vitabrid C12 and left with, sigh, a new prescription and a smile on my face. I'm going to continue to use VitabridC12 and forget about those expensive laser treatments. I'm hooked on vitamin C.
Vitabrid C12 is available exclusively at Barneys New York. Click here to shop.
YOU MAY ALSO LIKE:
A Dermatologist's View on Aging – and the Best Products to Use to Slow the Roll
10 Unexpected Ways You're Aging Your Skin

Tweet