Tweet

I recently received an email offering me an interview with Jeanna Doyle, a highly experienced hair stylist and makeup artist and author of a book called Wig ED: What to Look for When Looking for a Wig. I jumped at the chance to interview her and to receive her book. There are many reasons women wear wigs, from medically-induced hair loss to hair loss due to a medical condition to age-related thinning to wanting to experiment with a different color, style or even persona. Here's my reason:
I have Alopecia Areata (AA), an autoimmune disease that causes my hair to fall out. leaving bald spots in my scalp. So far, my AA has been treatable with monthly injections from my dermatologist of a corticosteroid directly into the spot until the hair begins to grow. Yes, they hurt. Yes, I hate them. Yes, I do it anyway because, thus far, they've worked. Last summer, I had a very large spot and received shots for six months before my hair started to grow back in a small section. But the shots hurt so much, I stopped them, hoping the hair would grow  without them. It didn't and I recently developed another spot. I thought long and hard about resuming the shots but vanity got the better of me and I went back to my dermatologist last week for shots in both spots. They still hurt. I still hate them. I'll be back next month and, sorry/not sorry, I won't apologize for my vanity. Losing hair is hard.
With AA, I never know when I'll get another spot. There's a chance that I won't. There's a chance that the hair won't grow back, even with treatment. There's a chance that I'll get multiple spots and won't be able to hide them with the rest of my hair. The thought of this sent me running to a wig shop with the intention of having a wig in my closet, just in case.
My experience was horrible. I sat in a chair in the middle of the shop – there was no private fitting room – and, feeling extremely self-conscious, donned a wig cap and chose wigs from shelves on the walls. The owner, and only person working in the shop that day, is a man who, when I told him I was self conscious about my hair, berated me by saying, "You should be happy you're not sick. You have Alopecia Areata, not cancer." This made me cry. Of course, I am happy that I'm not sick. I never for one moment wasn't grateful for that fact. But to dismiss me in that way, knowing nothing about me and who I am, brought on the tears. I never minimize or dismiss anyone's emotions. I listen to them, sympathize and offer advice when asked. You will never hear me say,"well it could be worse. You could have this illness or that illness" I will say those words about myself as in, "I know it could be worse. And I'm grateful it's not," but I have never – never – said those things to a friend who was suffering and sharing. It could always be worse but her pain is real right now and she's sharing it with me. I would never minimize or dismiss her by saying "it could be worse."
I walked out of the shop in tears and without a wig. I decided that the internet was the way for me to go wig shopping. I bought several wigs that were "wearable out of the box" according to the reviews. They weren't, so back they went.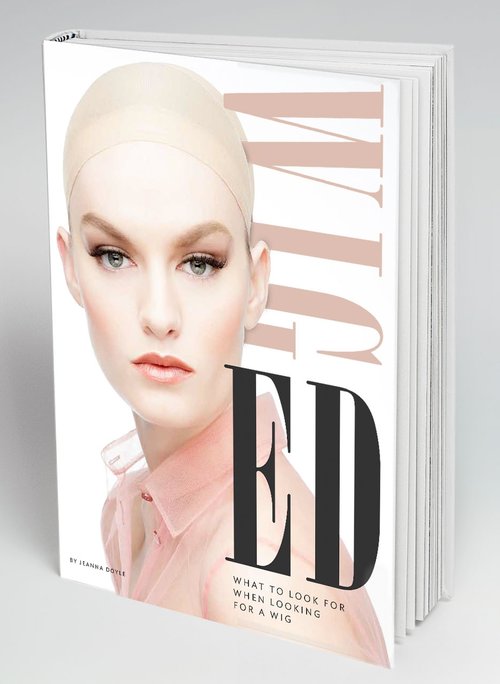 And then I received that email offering me an interview with Jeanna Doyle. We spoke by telephone last week and it was enlightening. Highlights, and there were many – Jeanna Doyle knows her stuff – are below …
EverBeautiful.com: I want to buy a wig. What's my first step in doing so?
Jeanna Doyle: I tell women that the first step is to take a friend with them because wig shopping can be overwhelming. A friend can try on wigs with you and offer feedback on how they look.
EB: Should I shop online or go to a wig shop?
JD: It depends. If you are in an area where you don't have a wig shop where there's a big selection, then shopping online may be for you. Be sure to check the online site's return policy. If you are in an area that's wig-buyer friendly [and that means it has a shop with] a private room, offers lots of feedback from knowledgeable staff and has the selection, then it's great to go and try wigs on.
EB: Will a wig shop carry the same lines as an online source?
JD: A lot of times, yes.
EB: What are the key things in finding a wig that doesn't look like a wig?
JD: If you don't  want to spend a lot of money on a wig, you want to look for one where the part and hairline are slightly obstructed. You can get a really believable wig with a slightly obstructed part. Look for a wig with a soft bang where you don't see the hairline as much. Another way to make a wig look more natural is to wear it at your natural hairline. One of the things that women do is pull their wig down too far on their forehead. You want the wig placed on the natural hairline. Don't pull it forward like a hat.
EB: How do I prepare for my visit to the wig store?
JD: It takes a little homework sometimes. Ask around for a recommendation from a friend. Call the shop in advance and ask questions. Or, have a friend do it if it makes you uncomfortable. No matter what, hair loss sucks. It's difficult. If you can't do the homework, ask a friend to help. She should say, "I have a friend shopping for wigs. She needs privacy, good selection and we want to take photographs of the wig." A lot of stores won't allow that because they're afraid you're going to go online. I want to change the way wig companies and stores operate and I want shoppers to insist on being able to take photos for a side by side comparison to see if a particular wig is going to work for you. A wig is an investment. My goal is to change the way stores treat women who are experiencing hair loss. You should be able to try on and take side by side comparisons.
EB: In your book, you write about a client's relationship with her hair stylist, one that's based on trust and experience. Is this also true for wig shoppers and how does one find a wig seller that is compassionate and trustworthy?
JD: Absolutely. Look for a wig shop that has an onsite stylist who can make little tweaks to your wig. With a synthetic wig, sometimes the ends get hard to comb. A stylist can snip those. They can color and style your wig. They become your personal shopper, suggesting styles and colors of wigs, [just like a hair stylist will suggest these things for your hair.]
EB: You write about skin tone and head size in finding a proper fitting and flattering wig. What else factors into that?
JD: There are several key things to look for when shopping for a wig: a wig that's too shiny won't be believable. Avoid a wig that's too thick, especially if your eyebrows are thinning. Length can be problematic and a long wig will also be hot. If you get a wig that's really straight, it won't be as believable. It will show that it's a perfect fiber. We don't want perfect in a wig. It doesn't have to be curly but it should have a little bit of wave. Finally, you want dimension in the color and movement to the hair.
EB: What should an older woman look for in a wig? My hair is nowhere as thick as it was when I was younger. The wigs I've tried have looked fake because they have too much hair.
JD: They make wigs with less hair on top. Look for a monofilament top. They look very natural. However, thinning shears and a trained stylist can de-bulk a wig and take away volume. They're all made with too much hair to start. That's also true for synthetic wigs. Also, there are a lot of women who may be thinking about stopping to color their hair and allow their gray to come in but don't know if they want to fully commit. Gray is a popular wig color. There are lots of shades of gray wigs so it's a way to try a color before committing to it. A wig can be a way to try before you commit to a new hairstyle too. There are lots of fun reasons women can try wigs.
EB: Can I take a wig to my stylist?
JD: I wouldn't unless they're trained in cutting wigs. You only get one shot with a wig. The hair doesn't grow back. Sometimes you can find a stylist with experience working on wigs. That's typically not something your hairdresser is trained to do. I'm trying to change that.
EB: Wigs, falls, hairpieces were very acceptable to wear in the 1960s and had nothing to do with hair loss due to illness or a medical condition. Are we there again now thanks to Hollywood and Instagram? Are wigs trending?
JD: I hope that's the case. A lot of celebrities are wearing wigs with all the extreme hair color. The more that actresses open up about wearing wigs, the more accessible it becomes to change our look or style. I'd like to see that happen. It would save our natural hair and make it more acceptable for women who need it to wear wigs. I'd like to demystify wearing wigs.
EB: Should women have a wig wardrobe?
JD: Yes, absolutely. We change our purses and shoes. Imagine wanting to be a blonde for one event and a brunette for another. Or basing a wig choice on your wardrobe. This dress calls for being a redhead but I don't want to commit to coloring my hair, for example.  Or, on a dating app, it would be fun to try two hair colors and seeing which one gets more attention. (Needless to say, Jeanna and I found this amusing and went off on a bit of a tangent.)
EB: How will I know when I find the right wig?
JD: For me, the key thing is a flattering color. I tell women to shop with very little foundation on and to look at the color of the wig against your natural skin. The style and the shape can always be tweaked. And take a photo of yourself in the wig. That spectator's perspective can really lock it in for you. You're going to look, not in a mirror, but on your phone at a photo.
EB: I want a wig to look as close to my real hair as possible. Can I find that?
JD: You don't have to shop for a wig that's the exact same shade as your hair. When you find a flattering color, you'll know. Don't try on a wig that's in a style you like but that's not in a color you want. You won't like the way it looks. There's something so jarring about seeing a color that's not flattering on your skin. When I'm shopping with a woman for a wig, I zero in on one thing – color. Once we find a wig in a flattering color, then we look at the styles in that color. Once you find a flattering color, you can ask the person who's helping you in the shop, for other manufacturers that carry a color similar to the one you like.
EB: The shop I went to didn't have the largest selection. What can someone do about that?
JD: I think when you find a store that has an onsite stylist, they'll have a larger selection. If they are more full service, they'll have a wide range of colors and styles. You may have to go to a larger city to find this type of wig shop. Online, you should be able to find a wide range of colors. I'd talk to someone, get swatches. I don't know if wig sites do that, but it's something worth asking so the manufacturers start to do it. I'm all about pushing so that we get better service. I'd like to see a big store like an Ulta that has swatches you can order online.
EB: Is it possible to be happy with a wig straight out of the box or is styling a necessary function to make it look natural?
JD: Absolutely! When you buy a wig, take it out of the box, turn it upside down and give it a vigorous shake. Also, a new wig needs some time to settle. Put it on a stand so it takes the shape of the head. Spritz it with water and let it settle. You can comb it out yourself. I don't recommend cutting it yourself but you can do some strategic styling.
EB: Is there anything else you'd like my readers to know about wig buying?
JD: My whole goal for women for whom a wig is a need is for her to feel inspired.
EB: Thank you so much, Jeanna Doyle!
About Jeanna Doyle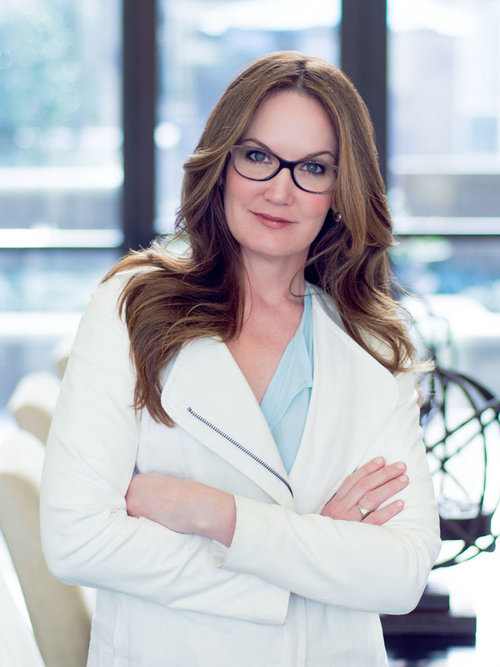 Jeanna Doyle is a veteran makeup artist with more than 25 years of experience working in both medical and media settings. Licensed in cosmetology, a certified Medical Aesthetic Provider, and trained in oncology esthetics and corrective makeup, Jeanna is the founder of the nonprofit Suite HOPE (Helping Oncology Patients Esthetically) and the developer of The HOPE Method – a corrective makeup curriculum. Jeanna has written articles for and spoken to audiences of both medical and beauty industry giants, and has worked with A-list actors, athletes, models, musicians, politicians and a former president and first lady of the United States.
Learn more about Suite HOPE at http://www.SuiteHope.org
Pick up a copy of Jeanna Doyle's informative and gorgeous book below:
YOU MAY ALSO LIKE:
What You Need to Know About Hair Loss
Does Viviscal Work for Hair Loss?