Tweet

The Big Game is Sunday and, whether you're planning to watch it alone or in a crowd, the temptation to snack on unhealthy and fattening foods is hard to resist. (My downfall is cheese; cheese on crackers, cheese on fruit; cheese straight up. Cheese!)
How do you resist the temptation of your favorite guilty snack? Substitute it with a healthier version and, if you do indulge, don't beat yourself up. Instead, try to fit in some exercise during the game. (Get your crowd to join in during the commercials, while you watch them of course, because no one wants to miss the commercials! Or, get back on track the next day with the exercises at the bottom of this post.)
First, the recipes, courtesy of The Vitamin Shoppe  …
Mighty Mini Meatballs with Oats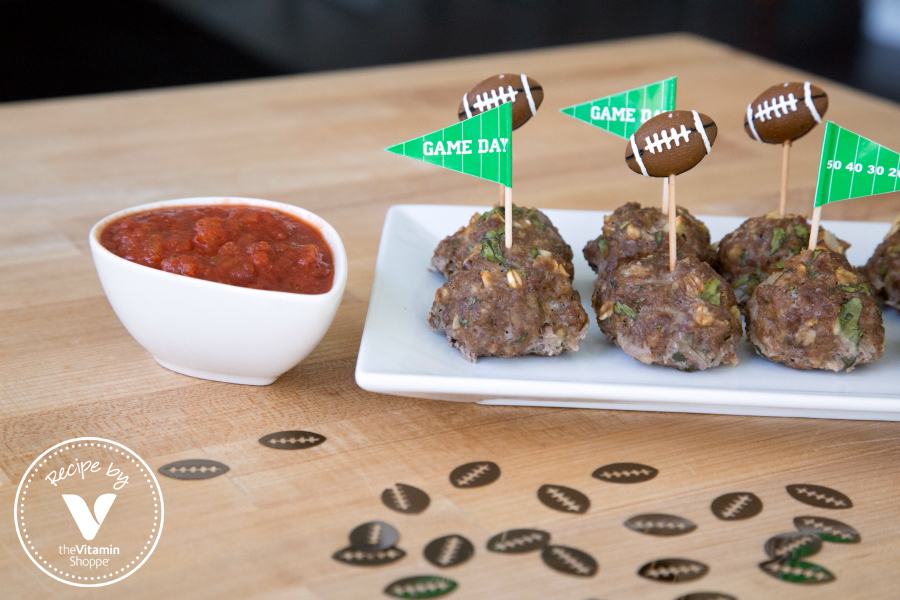 Ingredients:
1 cup Raw Baby Spinach
1 Large Egg
1 clove Garlic, raw
1 tsp Sea Salt
2 tbsp of Organic Ketchup
1/4 cup Organic Roll Oats Now Real
Foods, or brand of your choice
1/4 cup, Diced White Onion
1/4 cup Chicken Broth Low Sodium
16 ounces Organic Grass Fed Ground
Beef (1 package)
Method:
1. Preheat oven to 400 degrees and spray baking tray
2. Knead all ingredients in bowl then roll in palms of hand to
form 1.5 inch meatballs
3. Bake at 400 degrees for 25 minutes until golden brown
4. Remove from baking tray and serve
Nutritional Facts
(Per serving, serves 15) Calories: 79 (1 meatball) Fat: 5g
Protein: 6g
Carbs: 2g
Benefits of Oats: oats provide a source of protein and fiber, as well as potassium, magnesium and vital B vitamins.
Apple Cider Vinegar Guacamole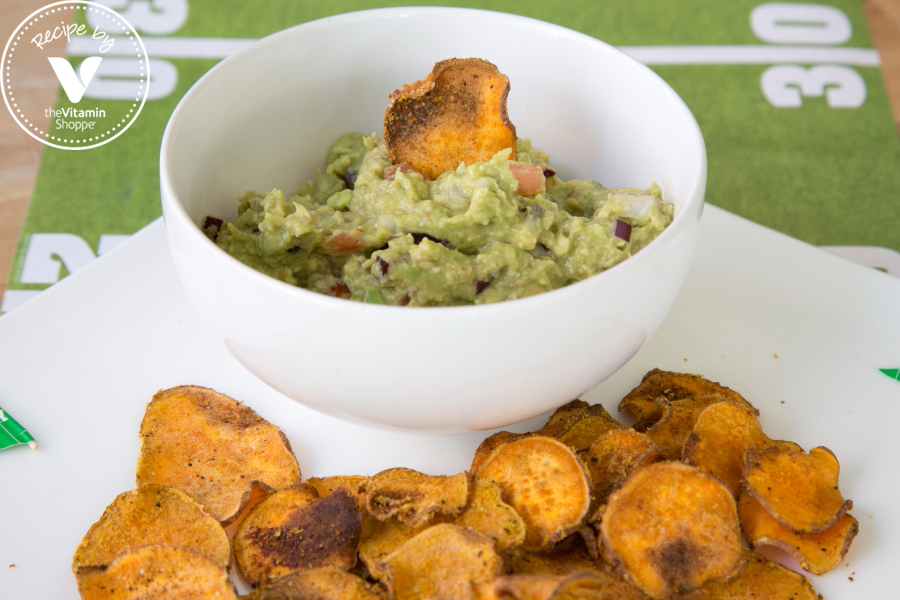 Ingredients:
2 Avocados (150g each)
1 tsp of Apple Cider Vinegar
1/2 tsp of pink Himalayan Salt
1/4 cup of diced Red Onion
1/8 cup of diced Tomato
Method:
Combine all ingredients in a bowl and mash.
Nutritional Facts
(Per serving, serves 4) Calories: 131
Fat: 12g
Protein: 2g
Sugar: 1g
Carbs: 8g
Sodium: 579g
Benefits of Apple Cider Vinegar: Apple cider vinegar provides digestive support. Try taking one tablespoon of raw unfiltered apple cider vinegar before a meal to support digestion.
***
And now, the exercises …  Try these, recommended by The Vitamin Shoppe to get you back on track.
Give Plyos a try. It's a great way to improve muscle power by incorporating plyometric exercises. Some examples include box jumps, jumping squats & plyometric push-ups.
o    Alternate lower then upper body. 20 box jumps, right into 20 pushups, then 20 jump squats. Complete 3 rounds.  Do this 3 times/week.
And entertain intervals. Interval training is a great way to burn calories in a short period of time. Intervals can be done outside or on your favorite (or least favorite) cardio machines.
o   Find a hill close to home. Run up full speed for at least 20 seconds then walk down for 20 seconds. Start with 5 rounds, eventually working up to 10 rounds.
o    For a treadmill, raise the incline to 5% and run at 5 MPH for 20 seconds then walk for 20 seconds. Do this for 5 rounds, eventually working up to a 15% incline and 10 rounds after a few weeks.
You May Also Like:
Healthy Recipes from Debi Mazar and Gabrielle Corcos
I Have to Exercise for How Long to Burn Off Those Super Bowl Snacks?

Tweet