Tweet

BREAST CANCER AWARENESS MONTH 2013
Breast Cancer Awareness Month is an international health campaign that was begun more than 25 years ago by The American Cancer Society and various health organizations and charities to raise funds for research and awareness campaigns to educate the public about the disease. In 1993, the late Evelyn Lauder of The Estee Lauder Companies, founded the Breast Cancer Research Foundation – and established the pink ribbon as its symbol. (The ribbon had been used two years prior by the Susan G.Komen Foundation, but it was Lauder who gave it prominence.)
Now for some statistics. These are from The American Cancer Society and are for the year 2013.
• About 232,340 new cases of invasive breast cancer will be diagnosed in women.
• About 64,640 new cases of carcinoma in situ (CIS) will be diagnosed (CIS is non-invasive and is the earliest form of breast cancer).
• About 39,620 women will die from breast cancer
Breast cancer is the second leading cause of cancer death in women, exceeded only by lung cancer.
At this time there are more than 2.8 million breast cancer survivors in the United States.
Breast Cancer Awareness is working. While there are more detections annually, there are fewer fatalities. But our work is not nearly over. We all want to stop this deadly disease. Here, in my Breast Cancer Awareness Month 2013 series of posts, are more companies that are helping to raise funds through their own donations. Won't you please consider patronizing them and help to stop breast cancer in our lifetime.
In recognition of Breast Cancer Awareness Month Mixed Chicks packaged their popular Leave-in Conditioner with a PINK cap. From every purchase of a 10 oz. bottle of leave-in conditioner $1.00 is being donated to Save the Ta-Tas Foundation for breast cancer research. Mixed Chicks Leave-in Conditioner is available at Mixedchicks.net for $16.99 and at retail locations for $19.99.
During the month of October, Agadir Argan Oil Hair Treatment will be offered with a special PINK pump in honor of Breast Cancer Awareness Month.  Proceeds from every sale of the 4oz Argan Oil Hair Treatment bottle will be donated to the Breast Cancer Research Foundation. Agadir Argan Oil Hair Treatment is available on Agadirint.com and select salons for $40.00.
Throughout the month of October, Skinn Cosmetics will donate 100% of sales (not profits, every cent of every sale will be donated) of their Sugar Lips Polishing Scrub for Lips & Laugh Lines to support Bright Pink, the national nonprofit focused on risk reduction and early detection of breast cancer in young women. Made with real sugar and a special butter blend, this lip scrub will gently exfoliate dry, flaky skin. Using aloe leaf extract and blended oils derived from sweet almonds, olives, avocados, mangos, pistachios and coconuts, this non-abrasive scrub will relieve chapped lips once and for all, revealing a soft, smooch-able smile. Skinn Cosmetics' Sugar Lips retails for $20.00 and is available for purchase on http://www.skinn.com.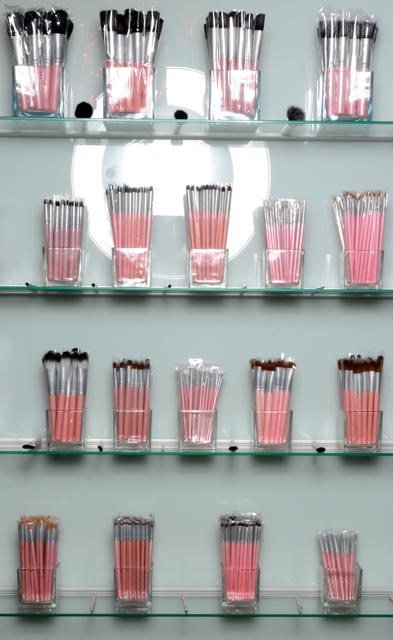 This past summer, Morphe Brushes launched a new "Brush of the Month" campaign where a particular Morphe make up brush is spotlighted and discounted each month. Just a month into the campaign, however, Morphe is going to be doing things just a bit differently to put the spotlight on Breast Cancer Awareness. They're offering a discount on their entire "Perfectly Pink" series throughout October, with a portion of the proceeds going to The Keep A Breast Foundation, the leading youth-focused, global, nonprofit breast cancer organization whose mission is to eradicate breast cancer for future generations. Discount will be honored in-store and, for online purchases, customers should enter the code "NOCANCER10" to receive discount. Code only applies to featured line, not to entire purchase. Morphe Brushes is now open to the public, and is located at 616 South Victory Blvd., Burbank, CA 91502.
During the month of October 2013, new U.S. anti-aging serum, MitoQ®, will donate 15% of net proceeds to the National Breast Cancer Foundation (NBCF) whose mission it is to save lives through early detection and to provide mammograms for those in need.  MitoQ ($185, MitoQ.com) has been challenging the international skin care industry with a new level of efficacy.  The patented ingredient in MitoQ®, mitoquinol, is scientifically proven to penetrate the mitochondria and is 1,000x more potent than CoQ (a molecule used in the world's best anti-aging products!) It is the only topical cream proven to deliver ingredients deep down to mitochondria at levels shown to have an immense effect in rejuvenating the cells, encouraging the natural production of collagen and elastin and leaving skin looking radiant with a lit-from-within glow.
To commemorate their commitment to the fight against Breast Cancer, JDB proudly introduces the limited edition version of their best-selling detangler, The 2013 Breast Cancer Awareness Wet Brush that not only combats tangles, but also helps support the battle against Breast Cancer. 25% of JDB's total profits will go towards breast cancer research. The Wet Brush retails for $14.00 and is available at TheWetBrush.com and at over 1000 Cosmoprof Stores nationwide.
SHE by SO.CAP.USA, a leading provider of all-natural hair extensions, is once again hosting its Pink Hair For Hope campaign. This national initiative, which takes place during the months of September and October, donates 100% of net proceeds from the campaign to various breast cancer charities. Now in its 8th year, clients who donate $10.00 or more to Pink Hair For Hope at a local participating salon, will receive a 100% natural, pink SHE by SO.CAP.USA hair extension. They can choose from professionally bonded or clip-in hair extensions that they can put in themselves and re-wear over and over again. To date, the Pink Hair For Hope campaign has successfully raised over $2.3 million dollars. Clients can locate a participating salon by calling 877-855-4247 or visiting, http://www.PinkHairForHope.org  or http://www.socapusa.com.
As a mother, daughter, and woman, Mally Roncal, Celebrity Makeup Artist and President / Founder of Mally Beauty has been personally touched by breast cancer. To stand with other women who hold this cause close to their hearts, Mally is offering an uplifting seven piece collection, the Brightest Days Are Ahead Kit. With each purchase, a donation will be made to the Fashion Footwear Charitable Foundation's breast cancer fundraising efforts (FFCF). FFCF leads the industry's fundraising efforts for innovative breast cancer research and provides grants to the nation's most distinguished breast cancer research hospitals and foundations. Housed in a beautiful tote that reads "your best days are ahead" the Brightest Days Are Ahead Kit holds:
§  NEW Perfect Skin Illuminating Refiner with a brush and sponge
§  Perfect Prep Under Eye Brightener in Lighter
§  NEW Luxury Lipstick in Pilar Pink
§  Evercolor Shadow Stick in Empowering Lilac
§  Evercolor Starlight Eyeliner in Fearless Brown
§  Mally Inspirational Bag: To remind you, wherever you are, that "Your Best Days are Ahead"
The Mally Beauty Brightest Days Ahead Limited-Edition Kit retails for $59.98 (MSRP: $140.00) during the month of October. Visit http://www.MallyBeauty.com
In honor of National Breast Cancer Awareness Month, dr. brandt skincare will donate a portion of the proceeds from any GLOW, DNA or XYY online purchases from October 1st through 31st. Simply pick up one of these breakthrough anti-aging products on http://www.drbrandtskincare.com during the month of October and you'll be helping to support breast cancer awareness, fund invaluable research, and enable lifesaving treatment. All donations will go to the important work done by Florida Breast Cancer Foundation (FBCF) and The Breast Cancer Research Foundation (BCRF).   The micronized ruby crystals in glow by dr. brandt™  boost skin's ability to reflect light and promote an even, healthy glow while Retinol increases cell renewal and improves skin texture. The Do Not Age (DNA) collection goes straight to the source of skin aging, delving to the DNA level to stop and turn back the cellular clock. Do Not Age targets the DNA mistakes and malfunctions to stop lines, wrinkles, sagging, dullness and loss of volume. Xtend Your Youth (XYY), derived from plant-based ingredients to preserve, protect, smooth and hydrate skin,  employs an exclusive combination of nature and technology—the A3—to fight stress and aging due to free radicals and external aggressors.
G Wear announces the launch of exclusive and limited "Pink Ribbon Designs" this October.  A portion of the proceeds from the sale of each pink ribbon T will be donated to Susan G Komen Dallas County to help support the fight against breast cancer. G Wear uses cotton t-shirts as a "canvas" and recycled t's as stitched-appliques to create designs that allow the wearer to communicate a style that's all their own. With no two shirts being alike, guests visiting the website http://www.mygwear.com can now select their favorite pink ribbon design to support October's Breast Cancer Awareness Month.
Support cancer research at City of Hope. Join the fight against breast cancer and sample the best of Redken Haircare when you purchase one of Redken's mini kits. In conjunction with this limited edition promotion, Redken will make a one-time donation of $20,000 to City of Hope to support breast cancer research, treatment and education. City of Hope is a leader in the fight against cancer, diabetes, HIV/AIDS and other life-threatening diseases.
Mini Kits Include a travel-size shampoo, conditioner, styler, and Diamond Oil Shatterproof Shine in your choice of Redken's bestselling haircare lines, all featuring Interlock Protein Network™ (IPN) technology. Suggested Retail Price: $11.00. Available: October 2013. Visit Redken.com for participating salons.
You May Also Like:
Breast Cancer Awareness Month 2013, Part 1
Giveaway! One Lucky Reader Will Win Radical Skincare Instant Revitalizing Mask

Tweet