Tweet

To read the first part of my QVC/Vogue Adventure in which I'm chosen to be in a Vogue ad for QVC, click here.
QVC/Vogue Makeover Day
The weather forecast is dire with 10 to 14 inches of snow predicted in New York City. QVC is sending a car to pick me up at 7:45 a.m for the "barefaced Before" photo. I toy with the idea of painting on my brows and putting on one fine coat of mascara, but resist the temptation to cheat. (In retrospect, I think I could have – and should have.)  I hadn't slept much the night before, hadn't eaten much the day before and am a bundle of nerves, knowing that not only would there be a digital SLR involved but several video cameras to chronicle the makeover for the QVC website.
The other women chosen for the shoot are Christine, Rocio and Mary Martha. Each of them is brilliant, beautiful, charismatic, interesting. Each of them, while fully involved in her career or studies, is passionate about fashion and beauty. And each of them, meeting the others for the first time, is acutely aware of the fact that she is barefaced.
We are introduced to many people at Tiger J Studio, including Beverly Brettman, writer, producer, QVC;  and Anthony Tamburrino, our photo stylist. Anthony is dapper, dressed to perfection.  I am in good hands. Our first order of business is to change out of our casual clothing and put on a black crew neck tee for our "before" video. Damn!  I'd spent two days shopping for the perfect "casual yet chic" look. Time to face the first demon. After pulling my hair back to make me as unattractive as possible, I am asked to stand still on a platform and smile while keeping my eyes on the camera lens. Seriously? I am jittery and nervous and Beverly tries to calm me down. I can feel my face burning, my cheeks quivering as I stand in front of the camera. I want to run away. Do I have to tell you that it takes me several times to get it right?  No?  Didn't think so. Next step – on to the Oscar Blandi salon, 545 Madison Avenue, in midtown for our makeovers, but not before the video crew is in place to capture our entrance. I want my eyebrows!  I want my eyelashes!
The staff at Oscar Blandi is amazing and deserving of its excellent reputation.  The place is abuzz with activity – and we are told this is a slow day because of the weather. As the video crew follows us along, I can hear people whispering and wondering who we are.  I admit that was kind of cool. I feel like a Real Housewife of New York and am hoping to run into Ramona Singer who got her "renewal" haircut at Oscar Blandi and who, like so many of New York's most stylish women, goes there regularly. (It wouldn't be my first encounter with her. Read about that here.)  Chris is slated to do my color and, after a consultation during which he tells me he is going to make it richer and add highlights, the process begins. Maddy, my stylist, cuts my hair a bit shorter and layers it to highlight my cheekbones. Color is applied – and the video crew chronicles it all while I wait for my eyebrows. In between, I got to know the other women and, with each conversation and revelation, am more and more impressed. Christine, a civil attorney who represents the families of victims of 9/11, hopes to be a Supreme Court judge. Rocio, a neurobiologist who has a Ph.D., works at NYU and Columbia University; and Mary Martha, a second semester Columbia University senior who's concurrently pursuing a Master's degree in Political Science, wants, one day, to be Secretary of State. Highly impressive women. Finally, my makeup is about to be applied and the video crew turns me away from the mirror.  Really?  I've had makeup applied many times but never while I wasn't watching – and directing – the process.  This is weird. But how else could they get the big reveal? Finished, I am turned to face the mirror and I like the way I look.  With my eyebrows firmly in place, I am ready to take on the world. We change our clothing and make our way to Vogue for lunch.
I freelanced at Bride's Magazine for more than a dozen years and my good friend, Diane, had been Promotion Art Director for Glamour. I'd been in the Conde Nast offices many, many times but had never been in the Vogue offices. We are introduced to Dennis Basso (handsome, charming, funny); Josie Maran (gorgeous, lovely); Lisa Robertson (even more stunning than she is on TV); Shoshanna Gruss (beautiful, charismatic) and several Vogue executives including Geraldine Rizzo, Anne Vincent, and Allison Luvera.  Lunch is served as a fashion trend slideshow is presented. (For spring, whites and creams; a return to the 70s silhouette – wide leg pants with high waists, midi lengths; a mixing of patterns and ladylike looks are among the most noticeable trends. For more fashion news, keep reading EverBeautiful.com)  I notice that hardly any of the women is eating. Forks are lifted and put back on plates. Food is gently pushed around. But few of us eat. We are facing a photo shoot and don't want to gain an ounce of bloat for the next day's events. After lunch, the makeover women are given a quick tour of the Vogue offices. We hope for a glimpse of Anna Wintour. She isn't in town but a sighting of Grace Coddington, Vogue's Creative Director, has some of us in awe. Again, this is my business. I know what goes on at these people's desks, in their meetings, at their photo shoots.  And so do Mary Martha, Christine and Rocio. They are so savvy – not only in a fashion and beauty sense – but in a business sense, that I was surprised. I know nothing about their businesses or studies.
We return to Tiger J for fittings and more videos for the QVC website. I love the outfit Dennis Basso chose for me. It's a cream knit shell and skirt. And, I don't know how, but it doesn't cling at all. It rides flatteringly over my curves and, while it seems impossible, it makes me look taller.  (Perhaps it only makes me FEEL taller.) Dennis adds a long, ruffled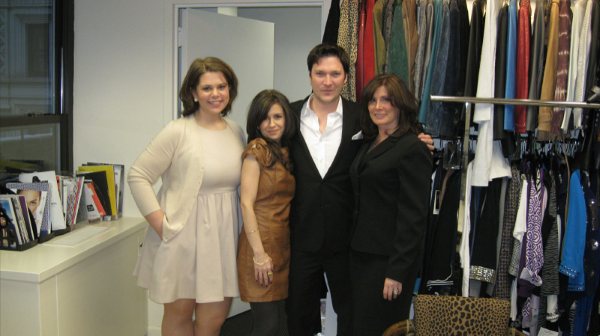 jacket that frames my face and I'm happy.  Everyone tells me I look chic.  And I feel chic.  I do two video interviews – one with Josie Maran and Lisa Robertson about makeup; the other with Shoshanna Gruss and Lisa Robertson about jewelry. Back in the main room, we meet Jamie Falkowski, QVC's Director of Public/Media Relations. He is handsome, charismatic, funny, charming. We are under his spell as he regales us with tales of the Oscars and Fashion Week.
I am tired. I haven't really slept, haven't really eaten. I'm energized by the ambience, the other women and their enthusiasm, but I am, frankly, beat. And, I'm doing my best to avoid the video cameras and the third interview where I have to introduce myself.  Beverly comes looking for me. "Melody, have you done your interview yet?" Uh oh. I know I haven't done them all and I, never having cut a class in school, tell her I had.  I wasn't completely lying but she wasn't fooled. She knows her stuff. I follow her begrudgingly onto the "living room" set the tech crew has created for the interviews. I can barely say my name. I am acutely aware
that my cheeks are turning red. Can I be shocked to death if the perspiration that's forming on my chest shorts out the mike that's been placed beneath my jacket?  Beverly asks me what I've learned from this makeover. I reflect for a second and come up with nothing.  I tell her I'd rather speak about what I've learned from the experience and I talk about the three other women. We were chosen for this adventure and, while we each have our own reasons for doing it (EverBeautiful.com, readers. I know you're paying attention), we formed a bond that I hope will be lasting. Back in the main waiting area, the fittings are finished and we head to Felidia, one of Lidia Bastianich's – you know her from television and books – renowned Manhattan restaurants for dinner.
To be continued …
Next: Dinner at one of NYC's most legendary restaurants and the QVC/Vogue Shoot
If you missed the first part of the adventure – how it all started – click here to read all about it.
And be sure to read Part 3 –

Tweet